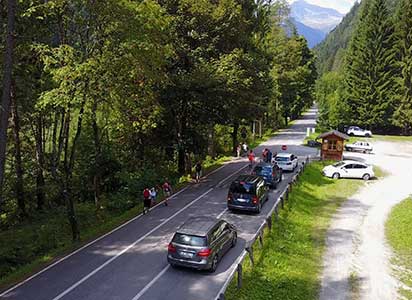 ❮ Go back
It is possible to purchase the Season Ticket service, 5 entrances in all the Valleys managed by the Park, respectively: Val Genova, Vallesinella, Val di Fumo, Val Algone and Val Biole at a reduced price.
For non-residents, the price is 20 euros for 5 parking spaces.
For residents in the PARK MUNICIPALITIES, it is possible to buy it at a cost of €10.00, by entering a discount code when booking.
To request the discount reserved for residents, you must send an email to mobility@pnab.it attaching a copy of your ID. Once you have purchased the subscription you will still need to buy the single parking space for the date and the desired valley by entering the new alphanumeric code received during purchase.
The concession concerns residents in the municipalities of: Andalo, Campodenno, Bocenago, Contà, Denno, Pelugo, Porte di Rendena, Sporminore, Cavedago, Cles, Commezzadura, Dimaro-Folgarida, Molveno, San Lorenzo Dorsino, Sella Giudicasporrie, Spiazzo, Maggiore, Sporminore and Tione.
The concession also concerns the Residents of the Owner Municipalities (Caderzone Terme, Carisolo, Comano Terme, Giustino, Molveno, Pinzolo, Stenico, Strembo, Tre Ville, Valdaone, Ville D'Anaunia and ASUC Mortaso) to access the valleys for which they do not have free access (see link for more information).
The parking areas of the Valleys will be managed, both with an online platform and with the presence of the Operator, from 17 June to 17 September 2023 continuously, and subsequently for the weekends until the middle of October with different calendars in the different valleys.
NOTICE
Online subscription purchase is suspended
For further information write to mobility@pnab.it